Tri-City Red
2000 Minnesota State Champions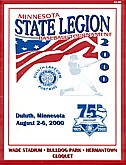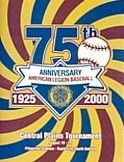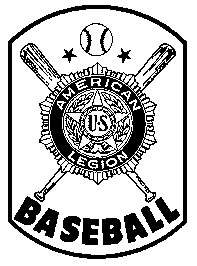 Several Portions are yet

2000 Season Accomplishments:
____ Place Finish in Central Plains Regional Championship (Rapid City, SD)
Minnesota State Championship (Duluth, MN)
4th District Tournament Championship (St. Paul, MN)
4th District League Championship
Regular Season Record:
Total Season Record: 36 W - 11 L
2000 Official Team Roster (17 players)
| | | | | | | |
| --- | --- | --- | --- | --- | --- | --- |
| Name | High School | Uniform # | Positions | Bat | Throw | Grad Yr |
| Alfson/Oehlerts, Cory J. | Irondale | 23 | Pitcher | R | R | 2000 |
| Baglien, Brad | Mounds View | 9 | Catcher, 3rd | R | R | 2000 |
| Beaulieu, Tony | Mounds View | 8 | Infield | R | R | 2001 |
| Christianson, Brian | Mounds View | 3 | Pitcher | R | L | 2002 |
| DeGross, Kelly | Irondale | 4 | 2nd, Shortstop | SW | R | 2001 |
| Genung, Dan | Mounds View | 21 | 2nd, Shortstop | R | R | 2000 |
| Grasley, Stephen | Mounds View | 7 | Pitcher, Infield | R | R | 2000 |
| Howard, Josh | Mounds View | 14 | 2nd, Shortstop | R | R | 2001 |
| Housh, Tom | Mounds View | 2 | 2nd | L | R | 2001 |
| Huber, Andrew | Mounds View | 18 | Catcher, Outfield | R | R | 2002 |
| Miller, Ben | Irondale | 13 | 2nd, 3rd | R | R | 2001 |
| Peters, Andy | Mounds View | 25 | Outfield, Pitcher | L | L | 2002 |
| Stuart, Dan | Totino Grace | 17 | Outfield, Pitcher | R | R | 2001 |
| Vastine, Jason | Irondale | 15 | Catch, Pitch, Outfield | R | R | 2000 |
| Weber, Chris | Mounds View | 12 | SS, Pitcher, Outfield | L | R | 2000 |
| Wehr, Andrew | Irondale | 22 | Pitcher | R | R | 2000 |
| Wiedewitsch, Pete | Mounds View | 16 | Pitcher, Outfield | L | L | 2000 |
2000 Coaching Staff
2000 Regular Season
2000 Regular Season Schedule/Record
2000 District Championship Tournament
2000 Minnesota State Championship Tournament
2000 Central Plains Regional Championship Tournament
After winning a hard-fought and emotional champtionship game in Duluth on Sunday, August 6, 2000, the Minnesota Champs hurried back to New Brighton to pack -- for their second trip of the season to Rapid City, SD. (Meanwhile, Waite Park headed off to Fairview Heights, IL, to compete in the Great Lakes Regional.) Being flown out of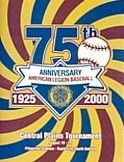 Minneapolis by the National, Tri-City had an uneventful trip, through Denver, arriving on Wednesday, August 9th. (The Beloit, WI team, on the other hand, found its trip to Rapid City fraught with troubles. They arrived only a few hours before their first game, getting almost no sleep the night before and missing the tournament banquet on the 9th.) Upon arriving in the jewel city of the Black Hills, Tri-City Red was greeted by near-100 degree temperatures -- and lots and lots of motorcycles. Unfortunately ALL the bikes weren't on the scene to serve as the Minnesota State Champs' escort; it seems a little rally called Sturgis just happened to coincide, schedule-wise, with the tournament. While, as a result, hotel rooms were extremely hard to come by and were at a premium price, the Red's troop of family and friends managed to find lodging of one form or another. No matter what the accomodations or the price, and despite the long drive, all were immediately recharged upon arriving in Rapid. There was excitement in the air, yet a quiet confidence, and everyone was ready to support the team in its pursuit of another Regional Championship.
Under the pool play format, the eight participating teams were divided into two divisions of four teams each (the American and National divisions), with each team playing three games -- one game against each of the other teams in its division. The two top teams in each division would then switch over and square off in single elimination games with the two top teams in the other division, with the two remaining teams advancing to the championship game. Tri-City was slotted in a tough American Division -- with Beloit, WI, Rapid City, and Omaha, NE. Our boys also had the unlucky draw of playing their first two games in the heat of the hot, hot, hot afternoon. Undaunted by the heat, however (from which there was no excape -- day or night), in the first game on August 10th, the Red took an early lead against Nebraska, and kept it, chalking up a 10-6 win. (Meanwhile, during the game, Red family and friends found camaraderie -- and shelter from the sun -- under the awning of one small covered bleacher up above the Red's dugout. One big -- and loud -- happy family!)
In the second game (1:00 p.m. on August 11th) against Beloit, WI, the searing temperature, as well as the game, was interrupted by a lengthy rain delay, when a thunderstorm blew up suddenly. The cool-down was very much welcomed. Steve Grasley, who always provides plenty of eye-gluing pitching entertainment on the field, provided some off-the-field entertainment during the rain delay, courtesy of a batboy who was willing to be turned upside down and all around in the rain. When the action resumed, Tri-City Red capped off a hit parade of a game, completing it in seven innings, with the final score being 24-8.
After the Wisconsin game, the Red headed off for a fabulous picnic in the park, hosted for them by their good friends and hosts, the Rapid City Shriners organization. The feast was concluded just in the knick of time, as the sky opened up again and served up a feast of its own -- a heavy duty, great plains style thunderstorm.
In its first two games, Tri-City Red established itself as THE dominant team in the regional tournament -- a force clearly respected and to be reckonded with by the other teams. Next up was Rapid City -- a night game on Saturday night, August 12th. Considering the long-standing rivalry between these two teams, it was likely that Fitzgerald Stadium would be filled to the brim with home-town fans, and that they would witness an intensive battle. Both proved to be true. The rain had brought a chill to the air, and by game time at 8 p.m., jackets and stadium blankets were coming out. And as folks settled in, they indeed watched Tri-City and Rapid City scratch and claw for 10 intense innings. At the end, Rapid City was one run in the favor, winning 7-6.
Despite Tri-City's dominating presence in the Regional Tournament, every tournament format has rules, and Rapid City's win left Tri-City, Rapid City and Omaha, NE tied in divisional pool play at 2-1 each. With no more divisional games left, the pool play tie-breaking rule was invoked to determine who would advance and who would not, and Tri-City missed the opportuntiy to advance, by a one-run margin. (For "old-time" fans, the tournament brought a feeling of deja vu -- the first time Rapid City and Tri-City had ever met in competition was in 1993 -- in the Central Plains Regional Tournament in Jamestown, ND. Tri-City and Rapid City, who went on to win the 1993 World Series, had also squared off in a doozy of a game that year, with Rapid City coming out on top -- the score being 7-6.)
While not advancing because of the tie-breaking rule was a heart-breaking way to end the 2000 season, there was no doubt that Tri-City Red was a champion of great proportions -- best of all, our champion.


2000 Tri-City Red Central Plains Regional Tournament Photo Gallery
Post Season Events & Awards

Tri-City American Legion Post #513
400 Old Highway #8 N.W.
New Brighton, MN 55112
Phone: (651) 631-1124
Fax: (651) 631-1359
If you have questions or need additional information about any Tri-City Legion programs or services, e-mail Tri-City Legion at info@tricitylegion.org.
(Please note that, if you are submitting your e-mail in the evening or on the weekend, your e-mail might not be read until the next business day.)
For info or questions on Tri-City Baseball programs, e-mail baseball@tricitylegion.org.
If you have feedback on the contents of this site, if you find any errors or links that do not work properly, or if you have ideas or information to contribute to this site, e-mail the Web Designer at webdesigner@tricitylegion.org.
Last updated: 4/20/01
Thank you for visiting our web site!
Gail Kalata, Web Site Designer